Mahindra & Mahindra Ltd., a mobility products and farm solutions provider, is the fagship Company of the Mahindra Group. The Company offer a wide range of products and solutions ranging from
SUVs to electric vehicles,
pickups,
commercial vehicles,
two-wheelers and
construction equipment.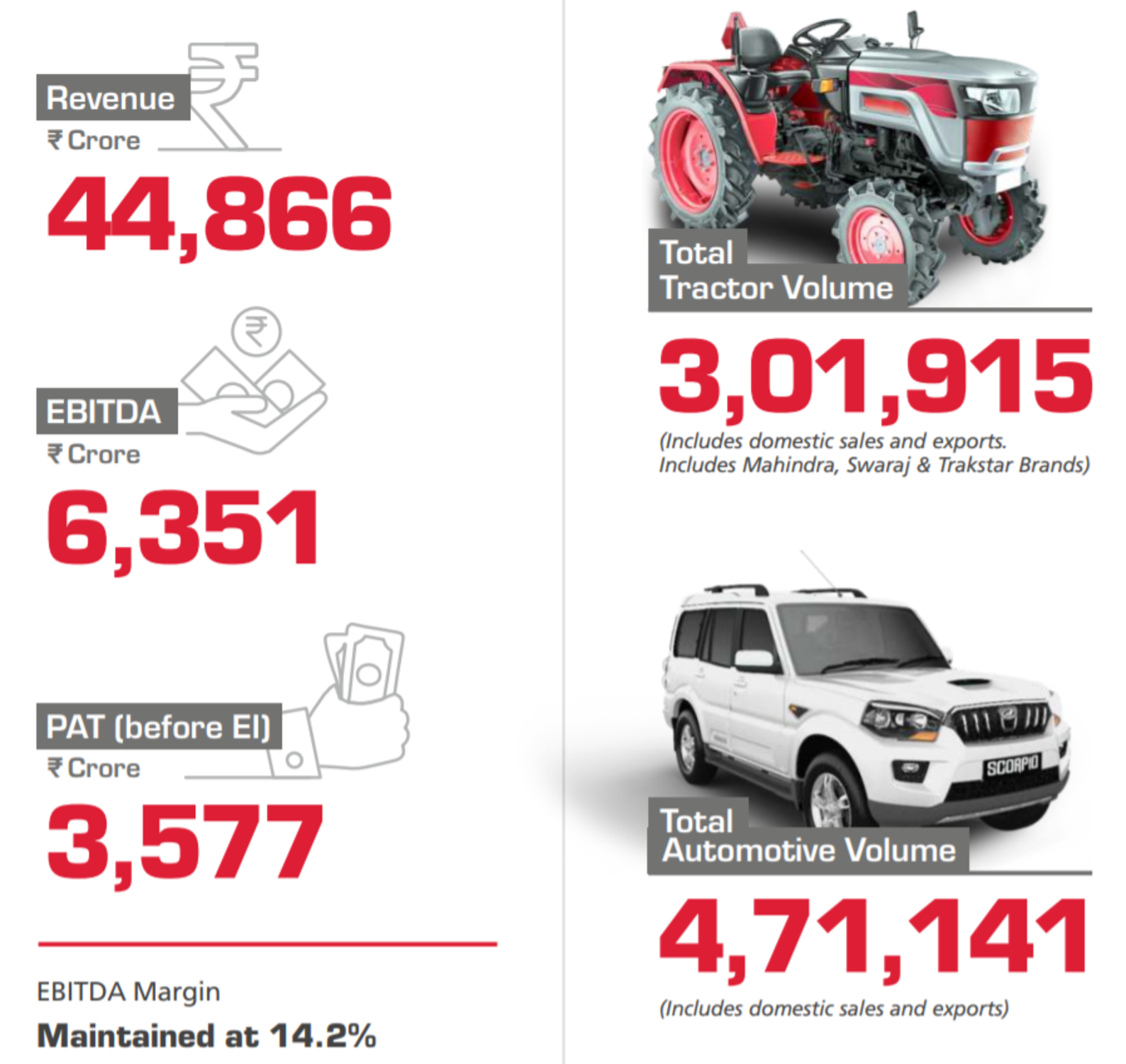 Mahindra & Mahindra Limited ("M&M") or ("Mahindra") is the Flagship company of the Mahindra Group, which consists of diverse business interests across the globe and aggregate revenues of around US$ 19.4 billion.
19 MANUFACTURING PLANTS ACROSS THE COUNTRY
Automotive Sector Sales Volume (units) 4,71,141
Farm Equipment Sector Sales Volume (units) 3,01,915
Mahindra & Mahindra Limited
The Company commenced exports in the 1960s, and today, vehicles and tractors can be found in all six habitable continents of the world. The Company is Headquartered
in India, Mahindra employs over 2,56,000 people across 100 countries.
Tractor Domestic Market share 41.2% in F20
CV (Commercial Vehicle) Market share 27.7% in F20
The Company R&D FACILITIES ARE SET UP IN 20 centres across 10 countries China, Finland, France, India, Italy, Japan, South Korea, Turkey, UK, USA.
3 rd Largest Passenger Vehicle Company in India
2nd Largest Commercial Vehicle Company in India
Largest Small Commercial Vehicle Company in India
Mahindra & Mahindra Company Partnership
Mahindra JV with Ford Motor Company
M&M Ltd. and Ford Motor Company signed a definitive agreement to create a joint venture – with Mahindra owning 51% controlling stake – that will develop, market and distribute Ford brand vehicles in India and Ford brand & Mahindra brand vehicles in high-growth emerging markets globally.
Mahindra's Partnership with Gamaya
Mahindra & Mahindra's Farm Equipment Sector (FES) acquired 11.25% stake in Switzerland based agritechnology firm, Gamaya, SA. This strategic association will enable Mahindra to develop and deploy nextgeneration farming solutions that are easily accessible to the global farming community.
Mahindra Susten JV with Mitsui & Co.
A leading player in the Indian solar energy sector, Mahindra Susten partnered with Mitsui & Co., Ltd. of Japan to jointly develop and operate distributed solar power generation projects in India.
Products of Mahindra [ New Products Launched ]
Mahindra CRUZIO – A brand-new range of BS6 ready buses with patented Mahindra FuelSmart Technology to save fuel.
XUV500 – W3 A new entry-level variant of XUV500, offering hi-tech features and thrilling performance at a competitive price.
Thar 700 – With its go-anywhere capability, Thar 700 is a true-blue offroader and a typical Mahindra breed that exemplifies the company's rich 4×4 heritage.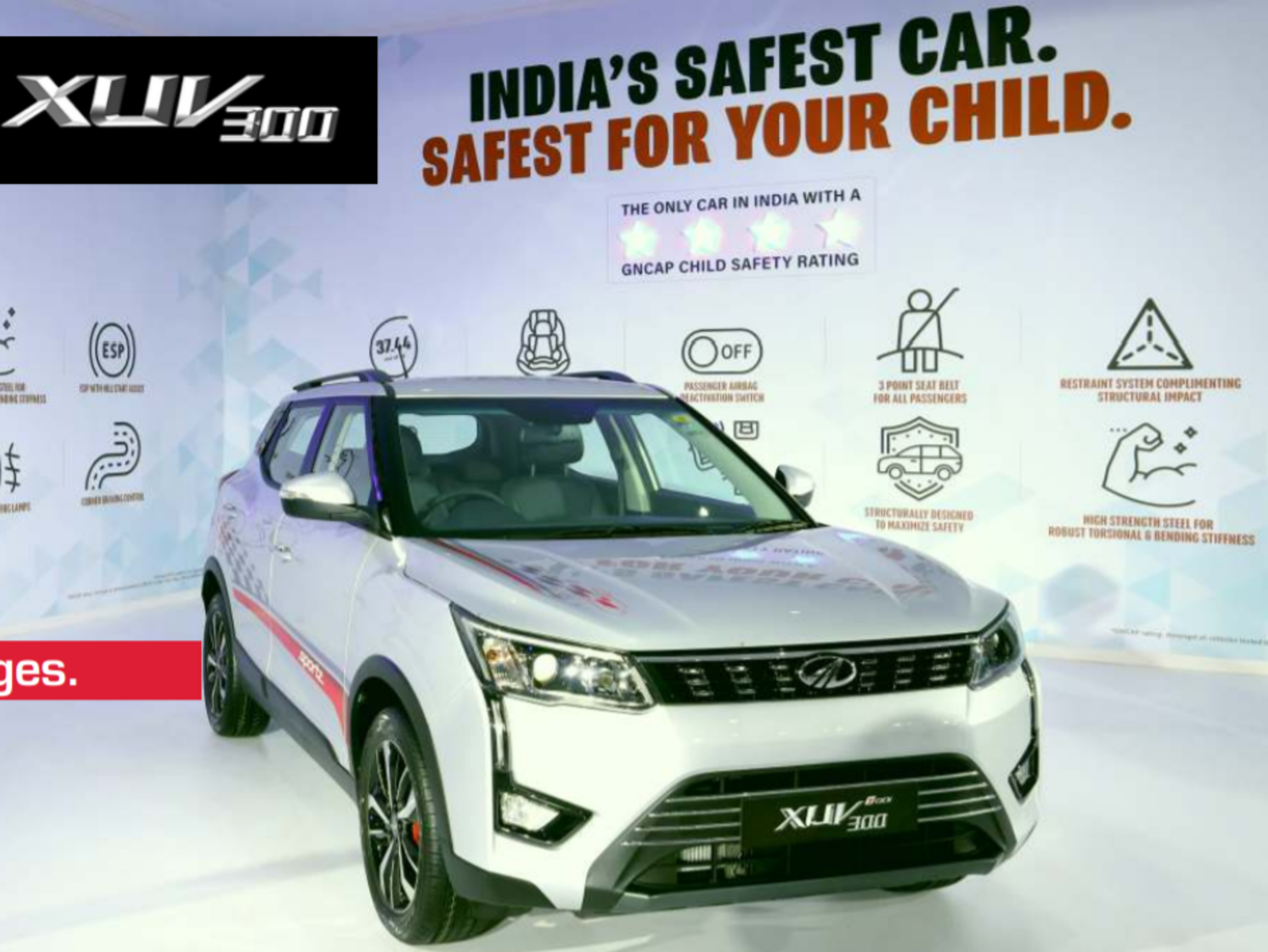 XUV300 AMT – An easier to drive, innovative, new Automated Manual Transmission (AMT) version of XUV300 with autoSHIFT technology
Jeeto Plus – A new variant of the minitruck Jeeto platform, offering higher load-carrying ability and lower operating costs.
New Bolero City Pik-Up – An ideal pick up with easy manoeuvrability for intra-city business trips and urban goods transportation.
New Bolero Camper Range – A refresh of the double cabin pick-up Bolero Camper, with
increased payload capacity.
SP PLUS Series – Comes with a powerful engine for superior performance and compatibility with all agricultural applications.
XP PLUS Series – Gives maximum power without compromising on mileage.
Supro Minitruck VX – Conceptualised for intercity and intracity business needs, the VX variant carries a higher payload.
Funster: Roadster concept – with a playful convertible mode A 'sports electric vehicle' that reaches 0 to 100 kmph in just 5 seconds.
A.T.O.M.: Smart Commute – A micro car designed to appeal to the emerging new India and transform the face of clean, comfortable and smart mobility.