Profile of Adani Transmission Limited, Financials of the company, MD & CEO and the List of subsidiaries of Adani Transmission Ltd.
Adani Transmission Limited
Adani Transmission Limited is the largest private power sector transmission and retail electricity distribution company in India. The Company builds, commissions, operates and maintains electric power transmission systems, and distributes electricity in the suburbs of Mumbai. Adani Transmission limited is a part of the adani group.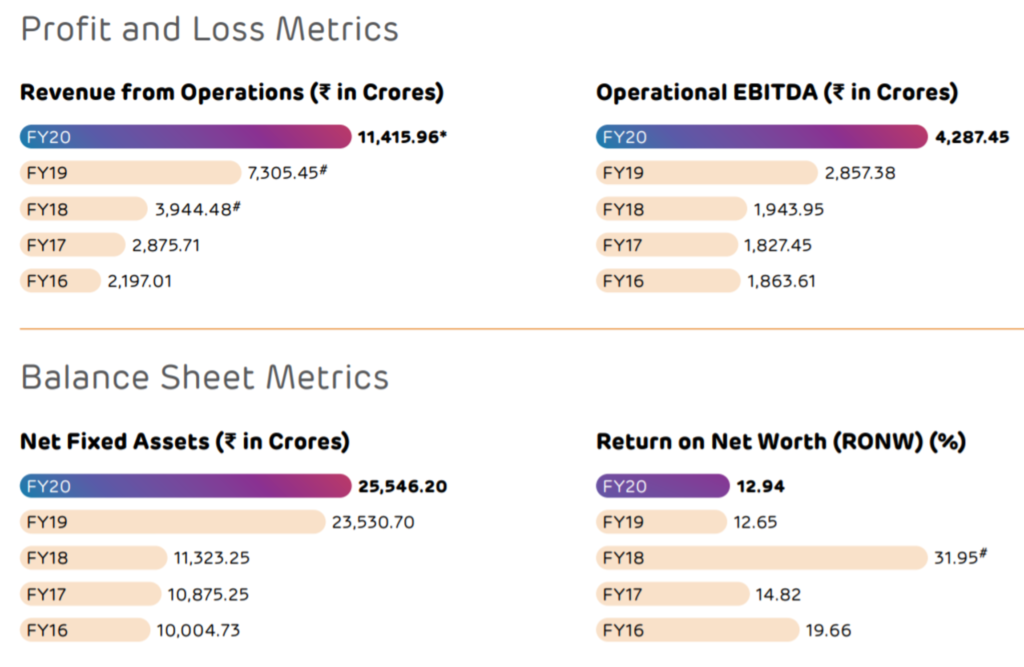 Profile of Adani Transmission Ltd
Adani Transmission Limited ("The Company") is a public limited company incorporated and domiciled in India. It's ultimate holding entity is S. B. Adani Family Trust (SBAFT), having its registered office at Adani House, Nr. Mithakhali Six Roads, Navrangpura, Ahmedabad 380 009, Gujarat, India.
Adani Transmission Ltd Presence in nine states with operational and under-construction projects comprising transmission lines of ~14,740 ckt km and substations with transformation capacity of 25,780 MVA.
Its operational projects in Gujarat, Maharashtra, Rajasthan, Madhya Pradesh, Uttar Pradesh, Chhattisgarh and Haryana comprise 11,576 ckt km (circuit kilometres) of electric transmission lines with a total transformation capacity of 18,330 MVA.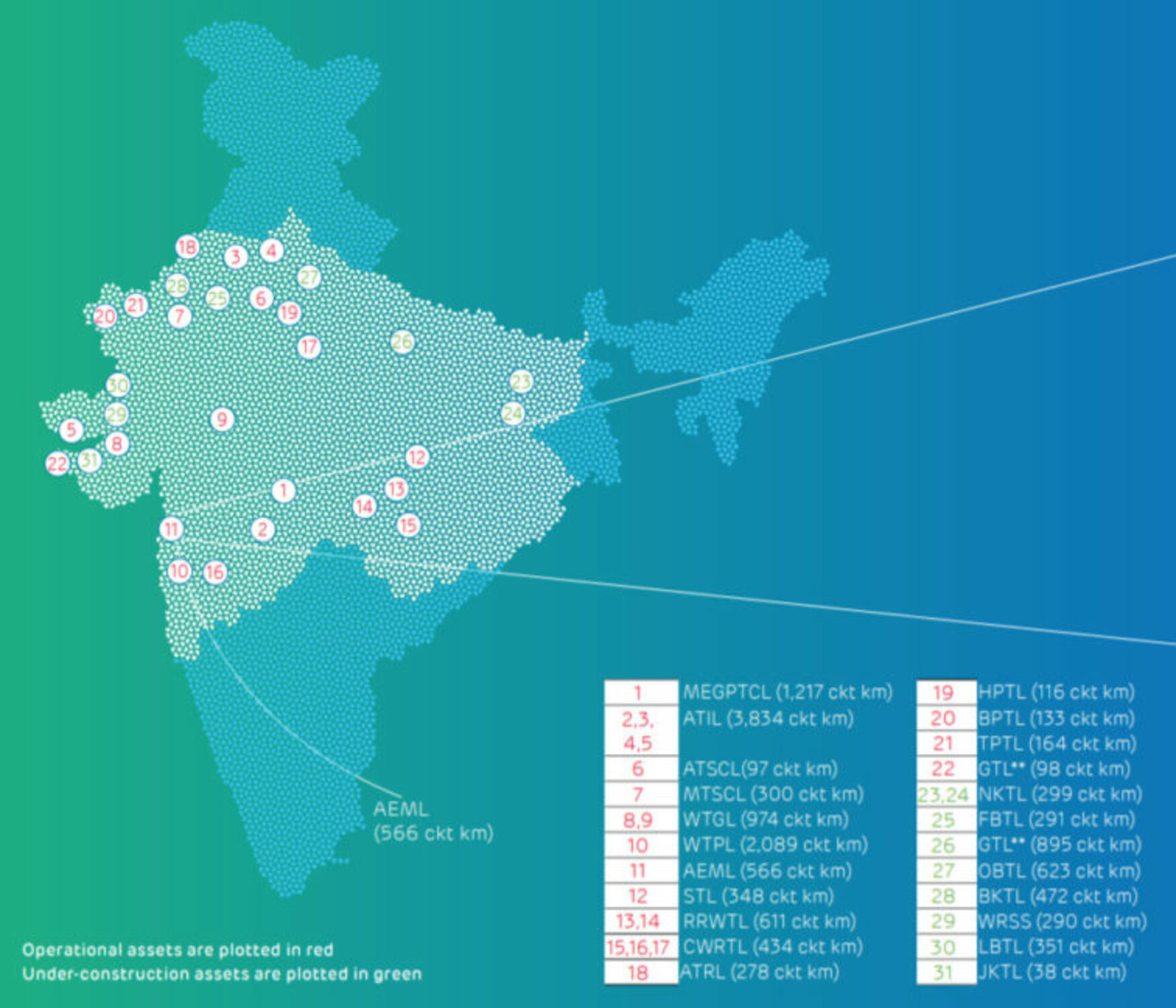 The transmission networks are consistently operating at more than 99.76% availability. The Company power transmission business in India focuses on the execution of new transmission systems under licensing from central and state electricity bodies, and Operations and Maintenance (O&M) of existing assets through outsourced partners.
Adani Transmission Ltd MD & CEO : Anil Sardana
Mr. Anil Sardana comes with about four decades of experience in the power and infrastructure sector. He began his career with NTPC and subsequently worked with BSES and Tata Group of Companies in the power and infra sector, ranging
from generation, power systems design, power distribution, telecom and project management.
Prior to joining the Adani Group, he was the MD & CEO of Tata Power Group, which is based out of Mumbai. Mr. Sardana is an honours graduate in Electrical Engineering from Delhi University (1980), a Cost Accountant (ICWAI) and also holds
a PGDM from All India Management Association.
He has undergone top management training from reputed institute like IIMA and 'Specialised Residual Life Assessment course for Assets' at EPRI – USA.
Owner and Founder Shri Gautam S. Adani
Mr. Gautam Adani is the Chairman and Founder of the Adani Group, and has more than 33 years of experience. Under his leadership, the Group has emerged as a global integrated infrastructure player with interests across Resources, Logistics and Energy verticals.
Mr. Adani's success story is extraordinary in many ways. His journey has been marked by his ambitious and entrepreneurial vision, coupled with great vigour and hard work. This has not only enabled the Group to achieve numerous
milestones with speed and scale, but has also resulted in the creation of a robust business model that is contributing towards building sound
infrastructure in India.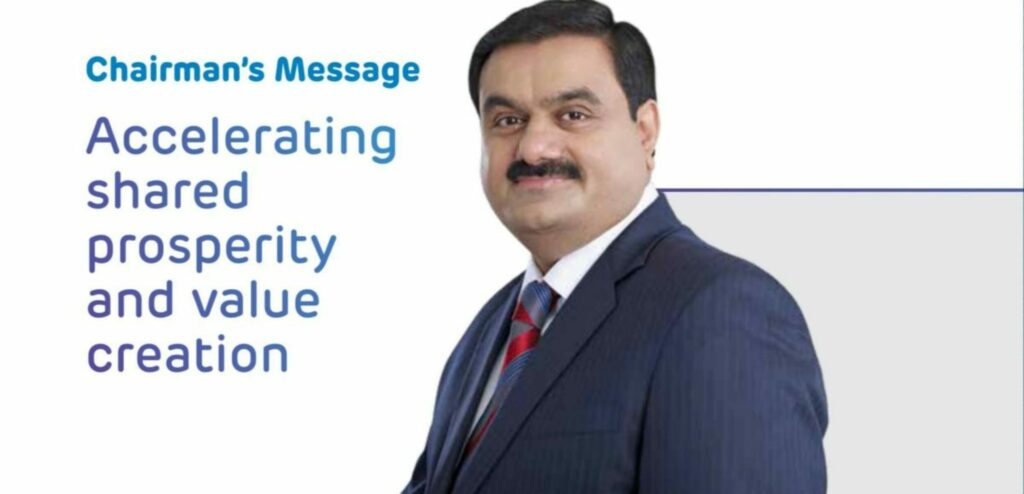 Distribution Business of Adani
Adani Electricity Mumbai Limited (AEML), was formed after the acquisition of Reliance Infrastructure Limited's integrated Generation, Transmission and Distribution utilities.
AEML: Integration into Distribution Sector
AEML's distribution network spans over 400 sq km, catering to electricity needs of over 3 Million households from Bandra to Bhayandar on the western side, and Sion to Mankhurd on the eastern side. AEML is proud to serve as Mumbai's primary electricity supplier.
Subsidiary and Associate Companies of Adani Transmission
The Company together with its various subsidiaries has a total of about 5,417 permanent employees as of 31st March 2020. The following are the subsidiaries of Adani Transmission Limited
Adani Transmission (India) Limited
Adani House, Nr. Mithakhali Six Roads, Navrangpura,
Ahmedabad – 380 009
U40101GJ2013PLC077700 Subsidiary 100 2(87)
Maharashtra Eastern Grid Power Transmission
Company Limited
Adani House, Nr. Mithakhali Six Roads, Navrangpura,
Ahmedabad – 380 009
U40100GJ2010PLC059593 Subsidiary 100 2(87)
Chhattisgarh-WR Transmission Limited
Adani House, Nr. Mithakhali Six Roads, Navrangpura,
Ahmedabad – 380 009
U40105GJ2014GOI094187 Subsidiary 100 2(87)
Raipur-Rajnandgaon-Warora Transmission Limited
Adani House, Nr. Mithakhali Six Roads, Navrangpura,
Ahmedabad – 380 009
U40300GJ2014GOI094189 Subsidiary 100 2(87)
Sipat Transmission Limited
Adani House, Nr. Mithakhali Six Roads, Navrangpura,
Ahmedabad – 380 009
U40300GJ2014GOI094190 Subsidiary 100 2(87)
Adani Transmission (Rajasthan) Limited
31 (A), 6th Floor, Plot No. 5, Swej Farm, Mahima Trinity,
New Sanganer Road, Jaipur – 302 019
U40105RJ2016PLC049663 Subsidiary 99.99 2(87)
North Karanpura Transco Limited,
Adani House, Nr. Mithakhali Six Roads, Navrangpura,
Ahmedabad – 380 009
U40103GJ2015GOI094910 Subsidiary 100 2(87)
Aravali Transmission Service Company Limited
Adani House, Nr. Mithakhali Six Roads, Navrangpura,
Ahmedabad – 380 009
U40109GJ2009PLC098510 Subsidiary 100 2(87)
Maru Transmission Service Company Limited
Adani House, Nr. Mithakhali Six Roads, Navrangpura,
Ahmedabad – 380 009
U40109GJ2009PLC098567 Subsidiary 100 2(87)
Barmer Power Transmission Service Limited
31(A), 6th Floor, Plot No.5, Swej Farm, Mahima Trinity,
New Sanganer Road, Jaipur – 302 019
U40300RJ2016SGC055162 Subsidiary 100 2(87)
Thar Power Transmission Service Limited
31(A), 6th Floor, Plot No.5, Swej Farm, Mahima Trinity,
New Sanganer Road, Jaipur – 302 019
U40300RJ2016SGC055193 Subsidiary 100 2(87)
Hadoti Power Transmission Service Limited
31(A), 6th Floor, Plot No.5, Swej Farm, Mahima Trinity,
New Sanganer Road, Jaipur – 302 019
U40106RJ2016SGC054887 Subsidiary 100 2(87)
Western Transco Power Limited
Adani House, Nr. Mithakhali Six Roads Navrangpura,
Ahmedabad – 380 009
U40300GJ2016PLC105283 Subsidiary 100 2(87)
Western Transmission (Gujarat) Limited
Adani House Nr. Mithakhali Six Roads, Navrangpura,
Ahmedabad – 380 009
U40300GJ2016PLC105284 Subsidiary 100 2(87)
Fatehgarh-Bhadla Transmission Limited
C-105, Anand Niketan, New Delhi – 110 021
U40300DL2016GOI309971 Subsidiary 100 2(87)
Ghatampur Transmission Limited
C-105, Anand Niketan, New Delhi – 110 021
U40300DL2016GOI308788 Subsidiary 100 2(87)
Adani Electricity Mumbai Limited
Adani House 56, Shrimali Society, Nr. Mithakhali Six
Roads, Navrangpura, Ahmedabad – 380 009
U74999GJ2008PLC107256 Subsidiary 74.90 2(87)
AEML Infrastructure Limited
Adani House 56, Shrimali Society, Nr. Mithakhali Six
Road, Navrangpura, Ahmedabad – 380009
U40106GJ2018PLC105571 Subsidiary 100 2(87)