Here you can find the profile of Adani Green Energy Limited, Subsidiaries, Financials, Chairman.
AGEL is one of the largest renewable energy company in India with a current project portfolio of 5,990 MW and operational capacity of 2,545 MW. The Company portfolio is almost equally split capacity wise between central and state government schemes.
Turnover: Rs 2,549 Cr
Market Cap: 42,815 Cr.
ROE: -43.43 %
Face Value: 10.00
Promoter holding: 74.92 %
Debt to equity: 5.97
Price to book value: 18.17
The Company is engaged in the business of generation of Power using Renewable sources of Energy and ancilliary activities. Adani Green Energy Limited ("the Company"), is a public limited company domiciled in India and incorporated on 23rd January, 2015 as a subsidiary of Adani Enterprises Limited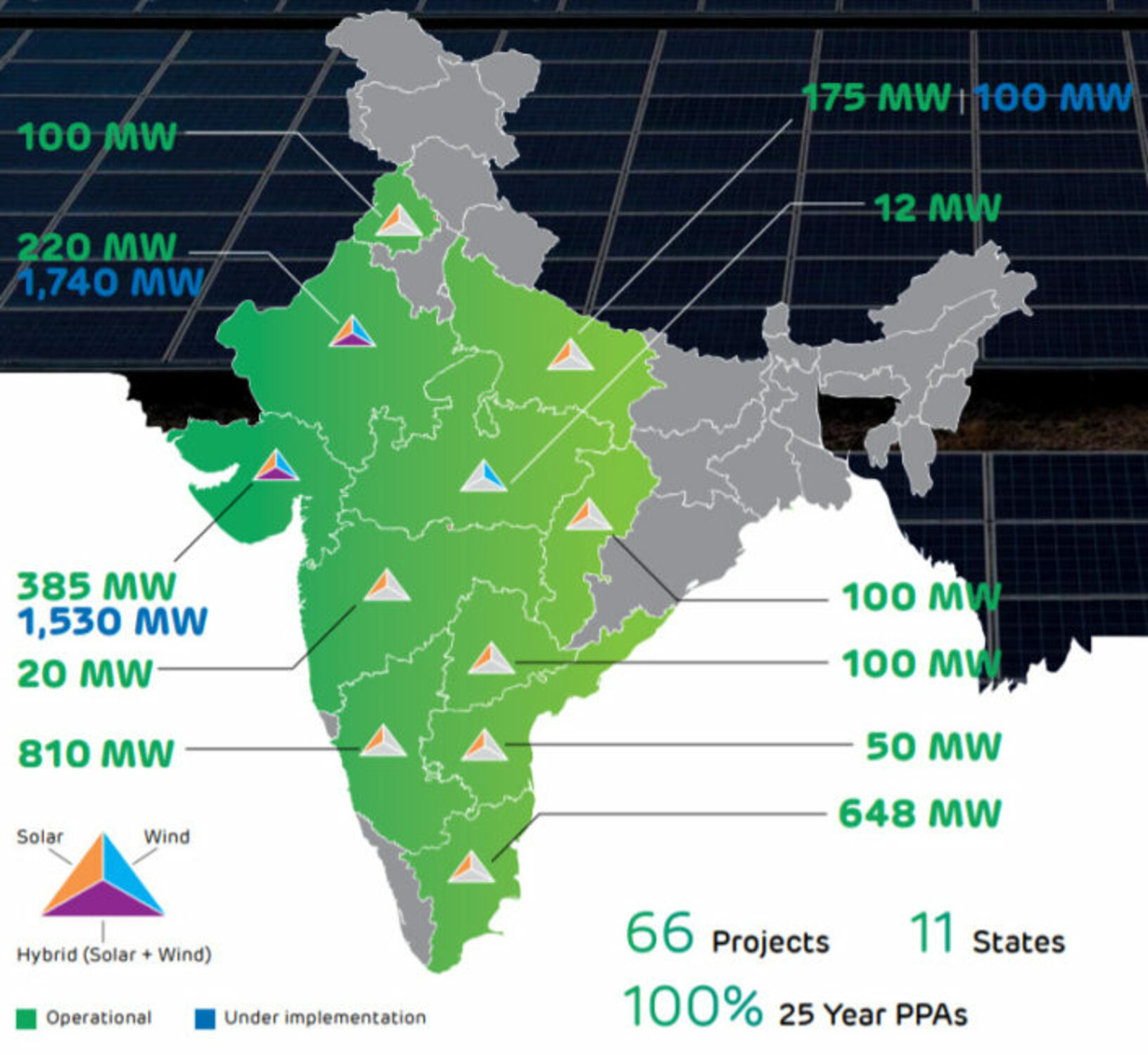 Adani Green Energy Limited
The company is Owned by the Adani Group which is one the leading business groups in India. The Company develop, build, own, operate and maintain utility-scale grid connected
Solar power,
Wind power,
Hybrid projects and
Solar parks.
AGEL has leveraged its capabilities and expanded its presence across 11 Indian states. The Company deploys the latest technologies in its projects to power India with clean and sustainable energy. With a portfolio of 46 operational projects and 18 projects under construction, AGEL is driving India on its renewable energy journey.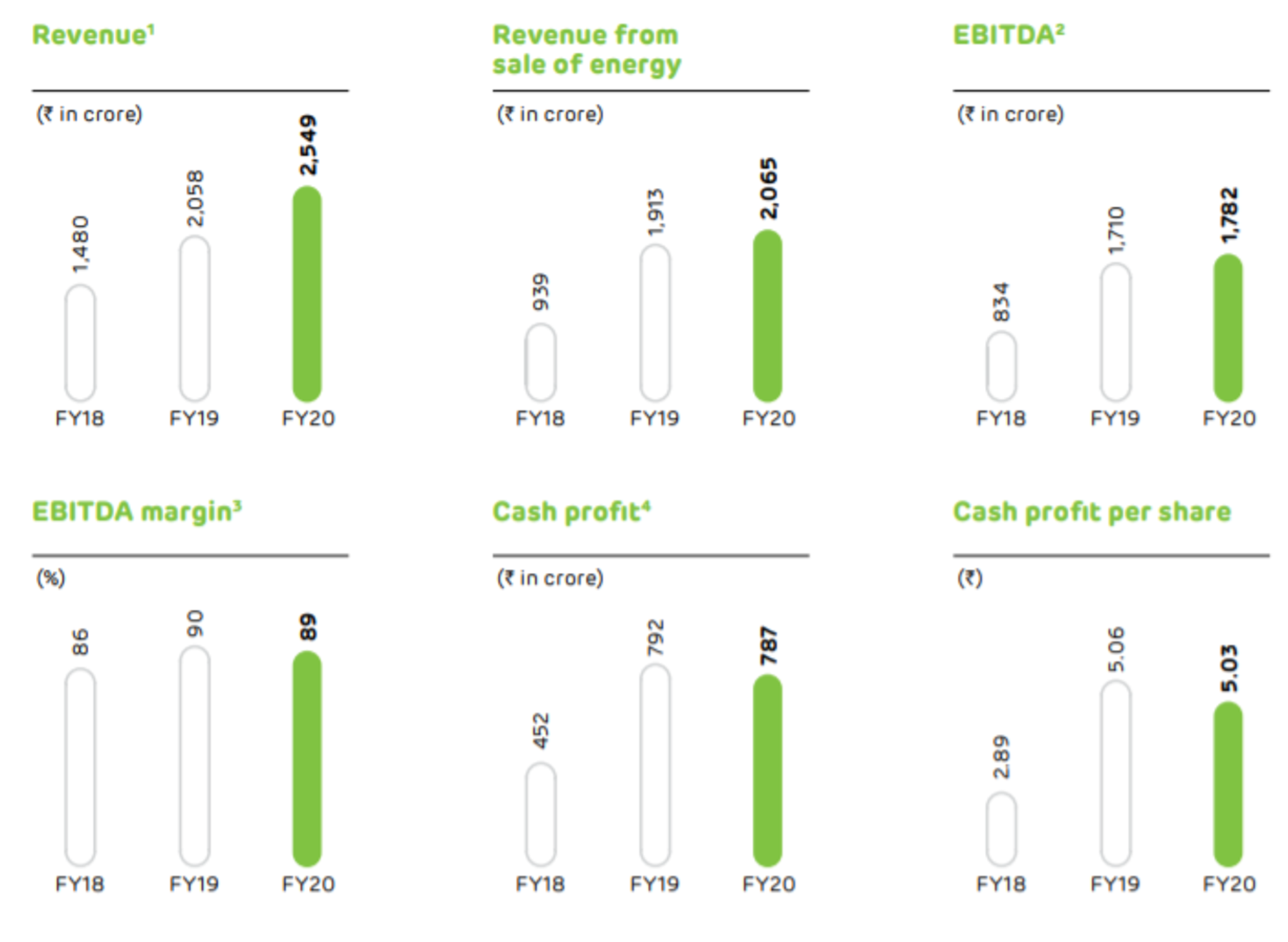 Mr. Gautam Adani [Chairman and Director]
Mr. Gautam Adani has over 33 years of business experience. Under his leadership, Adani Group has emerged as a global integrated infrastructure player with interests across resources, logistics and energy verticals.
His journey has been marked by his ambitious and entrepreneurial vision, coupled with great vigour and hard work. This has not only enabled the Group to achieve numerous milestones but also resulted in the creation of a robust business model, which contributes to building sound infrastructure in India.
List of Subsidiary of Adani green energy Limited
So here is the list of subsidiaries of Adani Green energy Limited with company address. The Company has 72 subsidiary companies (including stepdown subsidiaries) as on March 31, 2020 and 1 joint venture company.
Adani Green Energy (Tamilnadu) Limited
Adani House, Nr. Mithakhali Six Roads,
Navrangpura, Ahmedabad-380009
U40300GJ2015PLC082578 Subsidiary 100 2(87)
Adani Green Energy (UP) Limited
Adani House, Nr. Mithakhali Six Roads,
Navrangpura, Ahmedabad-380009
U40106GJ2015PLC083925 Subsidiary 100 2(87)
Adani Green Energy (MP) Limited
Adani House, Nr. Mithakhali Six Roads,
Navrangpura, Ahmedabad-380009
U40300GJ2015PLC083278 Subsidiary 100 2(87)
Adani Wind Energy (Gujarat) Private Limited
Adani House, 56, Srimali Society, Navrangpura,
Ahmedabad-380009
U70101GJ2015PTC083633 Subsidiary 100 2(87)
Parampujya Solar Energy Private Limited
Adani House, 56, Srimali Society, Navrangpura,
Ahmedabad-380009
U70101GJ2015PTC083632 Subsidiary 100 2(87)
Prayatna Developers Private Limited
Adani House, 56, Srimali Society, Navrangpura,
Ahmedabad-380009
U70101GJ2015PTC083634 Subsidiary 100 2(87)
Rosepetal Solar Energy Private Limited
Adani House, 56, Srimali Society, Navrangpura,
Ahmedabad-380009
U70101GJ2015PTC083588 Subsidiary 100 2(87)
Mahoba Solar (UP) Private Limited
Adani House, Nr. Mithakhali Six Roads,
Navrangpura, Ahmedabad-380009
U40106GJ2016PTC086536 Subsidiary 100 2(87)
Gaya Solar (Bihar) Private Limited
Adani House, Nr. Mithakhali Six Roads,
Navrangpura, Ahmedabad-380009
U40106GJ2016PTC086542 Subsidiary 100 2(87)
Kodangal Solar Parks Private Limited
"Aparna Crest", 4th Floor, Road No. 2, Banjara Hills,
Hyderabad-500034, Telangana
U40300TG2015PTC100216 Subsidiary 100 2(87)
Adani Renewable Power LLP
Adani House, Nr. Mithakhali Six Roads,
Navrangpura, Ahmedabad-380009
AAI-9408 Subsidiary 100 2(87)
Adani Renewable Energy (MH) Limited
Adani House, 56, Srimali Society, Navrangpura,
Ahmedabad-380009
U40300GJ2018PLC101944 Subsidiary 100 2(87)
Adani Renewable Energy (KA) Limited
Adani House, 56, Srimali Society, Navrangpura,
Ahmedabad-380009
U40108GJ2018PLC102097 Subsidiary 100 2(87)
Adani Renewable Energy Park Limited
Adani House, Nr. Mithakhali Six Roads,
Navrangpura, Ahmedabad-380009
U40106GJ2015PLC082625 Subsidiary 100 2(87)
Adani Wind Energy (GJ) Limited
Adani House, 56, Srimali Society, Navrangpura,
Ahmedabad-380009
U40108GJ2018PLC103698 Subsidiary 100 2(87)
Adani Renewable Energy Park (Gujarat) Limited
Adani House, Nr. Mithakhali Six Roads,
Navrangpura, Ahmedabad-380009
U40106GJ2015PLC082724 Subsidiary 100 2(87)
Adani Green Energy Two Limited
Adani House, 56, Srimali Society, Navrangpura,
Ahmedabad-380009
U40106GJ2019PLC106779 Subsidiary 100 2(87)
Adani Green Energy Four Limited
Adani House, 56, Srimali Society, Navrangpura,
Ahmedabad-380009
U40106GJ2019PLC106874 Subsidiary 100 2(87)
Adani Green Energy Ten Limited
Adani House, 56, Srimali Society, Navrangpura,
Ahmedabad-380009
U40300GJ2019PLC107664 Subsidiary 100 2(87)
Adani Green Energy Eleven Limited
Adani House, 56, Srimali Society, Navrangpura,
Ahmedabad-380009
U40106GJ2019PLC109245 Subsidiary 100 2(87)
Adani Green Energy Twelve Limited
Adani House, 56, Srimali Society, Navrangpura,
Ahmedabad-380009
U40100GJ2019PLC109250 Subsidiary 100 2(87)
Adani Green Energy Fourteen Limited
Adani House, 56, Srimali Society, Navrangpura,
Ahmedabad-380009
U40300GJ2019PLC109244 Subsidiary 100 2(87)
Adani Green Energy Twenty Limited
Adani House, 56, Srimali Society, Navrangpura,
Ahmedabad-380009
U40106GJ2019PLC110175 Subsidiary 100 2(87)
Adani Green Energy Twenty One Limited
Adani House, 56, Srimali Society, Navrangpura,
Ahmedabad-380009
U40106GJ2019PLC110234 Subsidiary 100 2(87)
Adani Green Energy Twenty Three Limited
Adani House, 56, Srimali Society, Navrangpura,
Ahmedabad-380009
U40108GJ2020PLC111950 Subsidiary 100 2(87)
Ramnad Solar Power Limited
Adani House, Nr. Mithakhali Six Roads,
Navrangpura, Ahmedabad-380009
U40106GJ2015PLC083404 Step down
Subsidiary
100 2(87)
Kamuthi Solar Power Limited
Adani House, Nr. Mithakhali Six Roads,
Navrangpura, Ahmedabad-380009
U40106GJ2015PLC083399 Step down
Subsidiary
100 2(87)
Ramnad Renewable Energy Limited
Adani House, Nr. Mithakhali Six Roads,
Navrangpura, Ahmedabad-380009
U40300GJ2015PLC083427 Step down
Subsidiary
100 2(87)
Kamuthi Renewable Energy Limited
Adani House, Nr. Mithakhali Six Roads,
Navrangpura, Ahmedabad-380009
U40100GJ2015PLC083451 Step down
Subsidiary
100 2(87)
Wardha Solar (Maharashtra) Private Limited
Adani House, Nr. Mithakhali Six Roads,
Navrangpura, Ahmedabad-380009
U40106GJ2016PTC086499 Step down
Subsidiary
100 2(87)
Kilaj Solar (Maharashtra) Private Limited
Adani House, Nr. Mithakhali Six Roads,
Navrangpura, Ahmedabad-380009
U40106GJ2016PTC085576 Step down
Subsidiary
100 2(87)
Adani Renewable Energy (TN) Limited
Adani House, 56, Srimali Society, Navrangpura,
Ahmedabad-380009
U40106GJ2018PLC102112 Step down
Subsidiary
100 2(87)
Adani Renewable Energy (GJ) Limited
Adani House, 56, Srimali Society, Navrangpura,
Ahmedabad-380009
U40109GJ2018PLC102187 Step down
Subsidiary
100 2(87)
Adani Renewable Energy (RJ) Limited
Adani House, 56, Srimali Society, Navrangpura,
Ahmedabad-380009
U40106GJ2018PLC102210 Step down
Subsidiary
100 2(87)
Adani Saur Urja (KA) Limited
Adani House, 56, Srimali Society, Navrangpura,
Ahmedabad-380009
U40108GJ2018PLC104033 Step down
Subsidiary
100 2(87)
Adani Wind Energy (TN) Limited
Adani House, 56, Srimali Society, Navrangpura,
Ahmedabad-380009
U40106GJ2018PLC104745 Step down
Subsidiary
100 2(87)
Adani Green Energy One Limited
Adani House, 56, Srimali Society, Navrangpura,
Ahmedabad-380009
U40300GJ2019PLC106775 Step down
Subsidiary
100 2(87)
Adani Green Energy Three Limited
Adani House, 56, Srimali Society, Navrangpura,
Ahmedabad-380009
U40300GJ2019PLC106778 Step down
Subsidiary
100 2(87)
Adani Green Energy Five Limited
Adani House, 56, Srimali Society, Navrangpura,
Ahmedabad-380009
U40106GJ2019PLC106798 Step down
Subsidiary
100 2(87)
Adani Green Energy Six Limited
Adani House, 56, Srimali Society, Navrangpura,
Ahmedabad-380009
U40107GJ2019PLC107662 Step down
Subsidiary
100 2(87)
Adani Green Energy Seven Limited
Adani House, 56, Srimali Society, Navrangpura,
Ahmedabad-380009
U40106GJ2019PLC107648 Step down
Subsidiary
100 2(87)
Adani Green Energy Eight Limited
Adani House, 56, Srimali Society, Navrangpura,
Ahmedabad-380009
U40106GJ2019PLC107639 Step down
Subsidiary
100 2(87)
Adani Green Energy Nine Limited
Adani House, 56, Srimali Society, Navrangpura,
Ahmedabad-380009
U40106GJ2019PLC107640 Step down
Subsidiary
100 2(87)
Adani Green Energy Fifteen Limited
Adani House, 56, Srimali Society, Navrangpura,
Ahmedabad-380009
U40106GJ2019PLC109248 Step down
Subsidiary
100 2(87)
Adani Green Energy Sixteen Limited
Adani House, 56, Srimali Society, Navrangpura,
Ahmedabad-380009
U40105GJ2019PLC109247 Step down
Subsidiary
100 2(87)
RSEPL Hybrid Power One Limited
Adani House, 56, Srimali Society, Navrangpura,
Ahmedabad-380009
U40106GJ2019PLC110124 Step down
Subsidiary
100 2(87)
RSEPL Renewable Energy One Limited
Adani House, 56, Srimali Society, Navrangpura,
Ahmedabad-380009
U40106GJ2019PLC110125 Step down
Subsidiary
100 2(87)
Adani Green Energy Eighteen Limited
Adani House, 56, Srimali Society, Navrangpura,
Ahmedabad-380009
U40106GJ2019PLC110171 Step down
Subsidiary
100 2(87)
Adani Green Energy Nineteen Limited
Adani House, 56, Srimali Society, Navrangpura,
Ahmedabad-380009
U40106GJ2019PLC110173 Step down
Subsidiary
100 2(87)
Adani Green Energy Twenty Two Limited
Adani House, 56, Srimali Society, Navrangpura,
Ahmedabad-380009
U40106GJ2019PLC110232 Step down
Subsidiary
100 2(87)
Mundra Solar Energy Limited
Adani House, 56, Srimali Society, Navrangpura,
Ahmedabad-380009
U29308GJ2019SGC110395 Step down
Subsidiary
100 2(87)
Adani Green Energy Twenty Four Limited
Adani House, 56, Srimali Society, Navrangpura,
Ahmedabad-380009
U40106GJ2020PLC111939 Step down
Subsidiary
100 2(87)
Adani Green Energy Twenty Five Limited
Adani House, 56, Srimali Society, Navrangpura,
Ahmedabad-380009
U40300GJ2020PLC111945 Step down
Subsidiary
100 2(87)
Adani Green Energy Twenty Six Limited
Adani House, 56, Srimali Society, Navrangpura,
Ahmedabad-380009
U40300GJ2020PLC111947 Step down
Subsidiary
100 2(87)
Adani Green Energy Twenty Seven Limited
Adani House, 56, Srimali Society, Navrangpura,
Ahmedabad-380009
U40106GJ2020PLC111948 Step down
Subsidiary
100 2(87)
Adani Green Energy Twenty Eight Limited
Adani House, 56, Srimali Society, Navrangpura,
Ahmedabad-380009
U40106GJ2020PLC111949 Step down
Subsidiary
100 2(87)
Adani Green Energy Twenty Nine Limited
Adani House, 56, Srimali Society, Navrangpura,
Ahmedabad-380009
U40300GJ2020PLC111951 Step down
Subsidiary
100 2(87)
Adani Green Energy Thirty Limited
Adani House, 56, Srimali Society, Navrangpura,
Ahmedabad-380009
U40300GJ2020PLC111957 Step down
Subsidiary
100 2(87)
Adani Green Energy Thirty One Limited
Adani House, 56, Srimali Society,